Hours
Day of the Week
Hours
Mon

10:00 AM

-

7:00 PM

Tue

10:00 AM

-

7:00 PM

Wed

10:00 AM

-

7:00 PM

Thu

10:00 AM

-

7:00 PM

Fri

10:00 AM

-

8:00 PM

Sat

10:00 AM

-

5:00 PM

Sun
Closed
Benefits
Flexible payment options
No hidden fees
Free delivery
Product service and repair included
Lifetime reinstatement
Never worry about missing a payment with Aaron's EZPay!
Start Shopping At Aaron's
Let's find the right products for you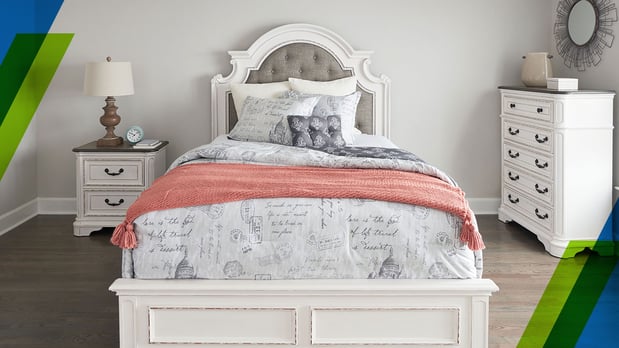 Shopping for furniture, appliances and electronics can be tough, and figuring out what works for your home takes research, know-how, and time. Good news: we've got your back. Browse our buying guides to find the perfect products for you and your family.
Explore our more affordable preleased products
Actual product availability and condition of preleased merchandise varies by store. The images displayed below are stock photos of the item(s) when new and not photos of the actual preleased items available at the store. Preleased merchandise is not available online. Please contact your store for availability and leasing options.
Shop Your Favorite Brands
About Aaron's North Bergen, New Jersey
Our stores have limited hours. If you are able, please shop online or make a payment at account.aarons.com. If you have any questions, call us at 800-950-7368. Thank you! Rent to Own Furniture, Electronics, Appliances in North Bergen, NJ Drop by our Aaron's store located at 2229 Kennedy Blvd, North Bergen to shop the latest deals on name brand lease-to-own electronics, furniture, appliances and more. We're located just south of NJ-495 near US-1 on the intersection of 23rd and Kennedy Blvd. near Union City and the Weehawken Township, and right across from the North Bergen Kennedy Branch Library and Roosevelt Stadium. North Bergen, NJ is located directly east from New York City through the Lincoln Tunnel. North Bergen is known for their extremely hilly terrain and is the filming location for Law and Order: SVU. Located in Hudson County, North Bergen has one of the highest population densities in the nation and is situated on the Hudson Palisades. If you're shopping for budget-friendly furniture, electronics, or appliances, in the Hudson County area be sure to head to your local Aaron's North Bergen store. We carry everything from game consoles and TVs to appliances and furniture all from the best brands. And with all of our lease agreements, no credit is needed and delivery and setup is included! Visit the North Bergen Aaron's store today or shop online at Aarons.com! - Flexible payment options - 12, 18, 24 month ownership plans and Aaron's early purchase option - Free delivery and setup with lease to own agreement - Product service and repair included - No hidden fees - Lifetime reinstatement - Never worry about missing a payment with Aaron's EZPay! (participating stores only) - We know your goal isn't just to rent it. You want to own it.
Frequently asked questions
Leasing to own from Aaron's can be a great way to get what you want right now. We offer a simple lease program where you make periodic renewal payments, and if you make all of the lease renewal payments or complete an early purchase option, you will own the merchandise. Leasing is a convenient way to get the items you want without a big upfront payment, using credit, or making a long-term commitment. Aaron's offers a great selection of name brand products, with affordable payments and flexible choices on how to own your merchandise. Aaron's provides a rental purchase agreement, lease purchase agreement, consumer rental purchase agreement, rent to own agreement, lease agreement with an option to purchase, or lease as applicable by state. It is not a loan, credit, or financing. While no credit history is required for Aaron's different digital approval processes, we do obtain information from consumer reporting agencies in connection with your lease application.You will not own the leased merchandise or acquire ownership rights unless you make all your lease renewal payments or exercise an early purchase option. Not all applicants are approved.

Complete an application online at Aarons.com if you would like to shop and lease online, or, if you prefer to shop in store, you can either complete an application in the store or at apply.aarons.com to determine your in-store Leasing Power™ before visiting the store.

When you apply online at Aarons.com you may be asked for the following:
• Name and contact information (address/phone)
• Residence information
• SSN
• Government issued ID
• Income information
• References contact information, if applicable

To apply in-store or find out your in-store Leasing Power™ at apply.aarons.com you may be asked for the following:

• Name and contact information (address/phone)
• SSN
• Government issued ID
• Income information
• Residence Information
• References contact information, if applicable

Delivery times vary based on the merchandise selected. The expected delivery time will be displayed during the checkout process. If you have already completed your order, you can find the expected delivery time on the "Aaron's Order Confirmation email".

Your local store will call you to schedule your free delivery of your merchandise at a time that's convenient for you.

After completing your order, we will send you a confirmation email titled "Aaron's Order Confirmation". At the top of that email is a blue "Track Order" button. If you have additional questions, please contact us at 1-888-333-3785.

Yes! While you are leasing from Aaron's we will move your merchandise for you provided you are moving within 15 miles of your current residence.

Aaron's accepts cash, checks, money orders, and all major credit cards at most locations.

If you are ever shopping and see that one of our local competitors has a lease to own deal that's lower than Aaron's, we'll be happy to offer our Low Price Guarantee. Our Low Price Guarantee promises that we'll meet or beat any local rent to own competitor's advertised total cost of lease ownership on the same item or we'll give you $100 in cash! †

"No Credit Needed" means that you don't necessarily need to have any established credit history to be approved for a lease. We do check credit sources; however, we look at many other data points to make a final decision, and we regularly approve customers that other stores won't, including customers with less than perfect credit or very little credit history.

Yes, online leasing is not available in all areas. Your delivery address must be within 30 miles of a participating Aaron's store. To find your local store, please visit our Store Locator. Unfortunately, there are a few areas that we are unable to service. We rely on our stores to make your leasing experience personal and reliable. If there is not a store in your area, we could not provide the red-carpet service that you deserve.

Once your item has been delivered, you can contact your local store to schedule a time for return or pick-up as stated in your agreement. However, you will not receive a refund. But don't forget about our lifetime reinstatement benefit; you can restart your lease anytime you like on the same or comparable value merchandise (excludes lawn equipment). See a store associate for complete details.

EZPay is an automatic payment system where your renewal payment is automatically paid each month, on the date you select, using your debit or credit card, so you never have to worry about missing a payment again. See your local store to sign up.

Aaron's Club is a convenient membership program that protects your lease and gives you great discounts on restaurants, shopping, health and wellness programs and more! Learn more here.